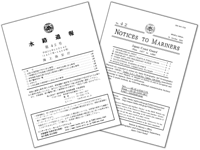 This publication contains information on issuance of hydrographic charts and publications, information required for correction of charts and publications to keep them up-to-date and information necessary for the safety of maritime traffic.
It is published as Japanese version and English version, and JHOD is providing this publication every Friday as a printed matter as well as through internet.
CHANGES IN CONTENTS OF NOTICES TO MARINERS AND SUPPLY OF PRINTED MATTERS
Notices to Mariners consist of "Notices for Small Corrections" (including correction blocks) for correction of chart and "Temporary Information" announced in Navigational Warnings, etc.
Since October 2008, the NtM issued by JHOD contain only "Notice for Small Corrections", while the "Temporary Information" was not included.
The printed products issued by JHOD as separate volumes of Notices to Mariners, "Summary of Notices to Mariners", "List of Sea Exercise Areas used by the U.S. Forces in Japan" and "List of Temporary and Preliminary Notices to Mariners" were also ceased.
All the Notices which are not available in printed products can be downloaded from the homepage of JHOD.
These separate volumes of NtM will be provided by JHA on request.
PRICE (without tax)
| | |
| --- | --- |
| Order for single product | 1 copy 300 yen |
| Annual lump-sum purchase | 15,000 yen (300 yen x 50 weeks) |
* Please inqurie about the delivery method and the delivery charge.
Click here for printed Notices to Mariners.
* At the time of purchasing NtM, a questionnaire will be displayed, in which the customer is kindly requested to enter such information as, e.g. No. and quantity of the product(s) desired.